CNNGo newspaper used to say: "The USA has produced mobile restaurants but it is Vietnam which is the paradise of street food". Taking a stroll around Saigon streets, you will come across numerous peddled wares on the pavement with innumerable noshes appealing to only teenagers but students and even officers as well. It is the reason why noshing is not a demand only but a typical cultural feature of Saigonese. To meet this need, a new kind of noshing has been introduced, which ensures the nutrition, hygiene and food safety in the modern society. You will not nosh on the pavement but sit in clean restaurants which remain the comfortable "spirit" of noshing.
Choosing for itself an easy-to-remember name, "Thím 7 Rụng Răng" (Funny Toothless Woman) restaurant makes a strong
impression on patrons thanks to that name. Its design is quite simple with all of tables and chairs made of bamboo so as to bring patrons the feeling of closeness and comfort.
The restaurant serves various sweets (mainly sweet soup) and savories. "Singaporean bánh lọt sweet soup" is the first one you should have a try. If you are familiar with Vietnamese bánh lọt sweet soup, then with the combination of jackfruit, "Singaporean bánh lọt sweet soup" will become completely new but still appetizing to Vietnamese. Besides, there are also other sweet soups which are no less delicious: 8-color mixed sweet soup; Thiên Sứ sweet soup; Ruby white bean sweet soup… You should not think much of the price since a glass of sweet soup will fill your eyes and taste with the maximum price of just 20,000 VNĐ.
To savories, "five-color stir-fried corn" can be considered the unique dish. With five colors from mushroom, corn, carrot, green bean and dried shrimps, the nosh attracts guests not only by sight but stimulates the food avidity from the first flavors. Furthurmore, you cannot find a pizza with only 15.000 VNĐ or a "Korean rice pancake" at the same price. "Thím 7 Rụng Răng" will be promisingly a great dining place for teenagers and families with children…
FUNNY TOOTHLESS WOMAN Restaurant
107 Đinh Tiên Hoàng str., ward 3, Bình Thạnh dist., HCMC. Tel: (+84 8) 3517 6284
Website: www.thim7rungrang.vn
Opened on 1st Feb. 2013, Thế Giới Tráng Miệng PACMAN (Pacman Dessert World) has soon attracted young people with the great Snow Ice cream which is considered pride of its. With the extraction of 100% fresh fruit and being produced basing on the modern chain and technology imported from HongKong, Snow Ice cream at Pacman Dessert World still remains the original and tasty flavor which is suitable for everybody. Sweet Mango Snow Ice; passionate Durian Snow Ice; fresh Green Tea Snow Ice; fragrant Guava Snow Ice;… each will leave you an indescribable aftertaste. Especially, Crème Brulée with the price of 28,000 VNĐ is liked by not only teenagers but also children taken here by their parents.
If you love savories, then "Oz beefsteak with Fries / Bread" or "Spaghetti Bolognese" will be smart choices for you as "Oz beefsteak" with beef imported from Australia costs only 65,000 VNĐ (100 gram). Or you can have a try with "Pacman spring roll" – a signature dish of the restaurant with the stuffing including: vermicelli, pork, cat;s ear… and the outside skin made from green bean rice paper.
Say as the owner "Coming to Pacman Dessert World means coming to fresh and sweet moments from nature…".
PACMAN DESSERT WORLD
13 Phạm Viết Chánh str., Nguyễn Cư Trinh ward, dist. 1, HCMC. Tel: (+84 8) 3925 8800
Website: www.pacman.vn
Being the new kind of noshing first introduced in Vietnam, AIYA - Thế Giới Ăn Vặt (AIYA - Nosh World) is the place for teenagers enjoying nosh food with a completely new and attractive style.
Aiya appeals patrons coming at the first time with the fresh design of two main colors: green and white. Aiya serves various nosh food which is popular in the North and South of Vietnam. Apart from familiar dishes: mixed rice paper, fried dough with eggs or fried sweet fermented pork roll… with the ingredients directly imported from Hanoi to remain the true flavor of the capital's nosh food, Aiya has also created unique recipes for dishes. If you used to have "Korean mixed rice", now you should try "Aiya mixed rice" with more simple ingredients which are suitable for Vietnamese teenagers' flavor such as: egg, shrimp, corn, beef, kimchi, vegetables,…
Arriving at Aiya, you will be amazed at dishes bearing the lovely and friendly names: "Xuka" – a kind of sweet with the ingredients including: flan cake, mixed caramel and jelly or "Doraemi" – fried tofu with botanic egg, torn pork above… Dishes here are both strange and familiar, both familiar and unique and attract many teenagers who love nosh food.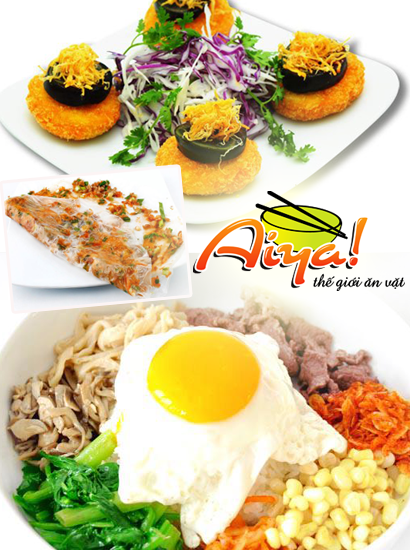 AIYA - NOSH WORLD
35 Bùi Thị Xuân str., Bến Thành ward, dist. 1, HCMC. Tel: (+84 8) 3926 0373
274 Cao Thắng str., ward 12, dist. 10, HCMC. Tel: (+84 8) 2216 9313
Website: www.thegioianvat.com
With more than 95% people using street food, 51% among them use it as everyday meals (the figure from Vietnam Nutrition Center), noshing is gradually becoming a part of Saigonese's life. It is hoped that the restaurants introduced above will provide the young people and families with children with more choices for meals. Nosh will not simply be a snack but nourishing and meet the standards of food hygiene and safety…