Opened in April, 2010, Trang Sen vegetarian restaurant is suitable for those who like to enjoy true vegetarian cuisine.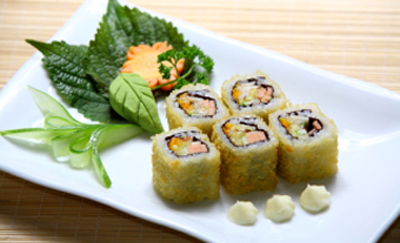 Trang Sen sushi
Located at 50 Hoang Dieu Str., Dist.4, Trang Sen vegetarian restaurant owns a beauty of mildness and luxury with the color of turquoise, together with the simple and natural design. At the entrance of the restaurant is a small stone bridge and penjings in the style of Japanese tea garden with fish swimming around, which make customers feel cool and pure when they step into the restaurant.
Trang Sen has got two floors with the capacity of approximately 100 seats, each of which has the difference in design. The ground floor is the space of purification with tables and chairs neatly arranged. The first floor is the space of warmth and friendliness with the style of sitting flat on the floor, which is very suitable for friend or family get-togethers. Despite the differences in design, the entire space of the restaurant is flooded with the color of turquoise with pictures of Buddha, black and white pictures and calligraphies on the wall. Wallowing in lilting melodies of Buddhist music, customers will easily dispel worries and feel tranquil in their soul.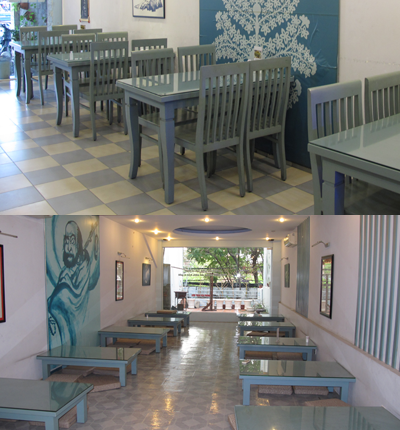 With the desire to become a place of vegetarian food enjoyment, Trang Sen always pays good attention to the flavor and quality of each dish in order that the vegetarian meals are not only peaceful but also healthful. The cook of the restaurant, who used to work in a famous 5-star hotel in Saigon, has filtered the essences of modern cuisine to change traditional vegetarian cuisine into original Trang Sen one. This might be one of the reasons why Trang Sen is always an ideal address of cuisine for vegans, monks, and artists.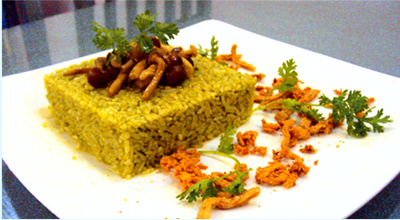 Green tea rice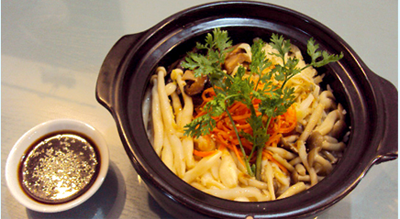 Rice mixed with mushrooms
The food here is not only impressive with the meaningful names but also attractive with typical colors and flavors: charming and nourishing. They are: Kinh Ky Noodle, Bo De Rice, Giac Ngo Rice, Thuy Lien Noodle, Tieu Bach porridge, Lien Hoa soup, Tu Bi soup,...Especially, two dishes that are only served in Trang Sen are: Rice Mixed with Mushrooms and Green Tea Rice. They are top choices of patrons whenever they come here.
In addition to a creative and appetizing food menu, the restaurant also applies a drinking menu that is scientific with the cool and natural drinks. All will bring to customers a delicious and nourishing vegetarian meal in a really tranquil space.