Recipes
Main ingredients (Serves one)
Sea bass fillet
40 gr
Prawns
40 gr
Squid
40 gr
King or jumbo scallops
40 gr
Mangosteen sauce
Limes
2 fruits
Mangosteens
3 fruits
Coconut milk
4 tbsp
Coconut water
1 bowl
Truffle oil
Salt, pepper
Other ingredients
Yellow chili
¼ fruit
Red chili
¼ fruit
Green chili
¼ fruit
Onion
¼ tuber
Shisho
4 leaves
Coriander
1 sprig
Lemon grass stalks
Fusion
『 Bobby Chinn restaurant 』
Bobby Chinn restaurant owns the style of luxury, romance and subtlety with the familiar design of Fine Dining style of a lot of world-famous restaurants.
The cutting-edge cuisine displays classic Vietnamese aspects, together with North African and North & South American element allowing customers to revel in unusual flavor combinations.
Bobby Chinn is now highly anticipated from both local and international diners . Also, this is the only restaurant in Vietnam receiving the Wine Spectator Award of Excellence for seven consecutive years.
Tip
Seafood is cooked without fire.
Truffle oil is extracted from Truffle mushroom, which is healthful and nutritious.
After boiling squid, put it in a cold bowl to keep it white and crispy.
Chef Bobby Chinn
Chef Bobby Chinn was born in New Zealand to a Chinese father and an Egyptian mother. Till now, the name of chef Bobby Chinn has still been popular among "Cook Stars" in the world. His name
has become familiar with
hundreds of millions of
households through a
television program chain
"World Café" on Discovery
Channel (now TLC).
Image: Naoto Ohike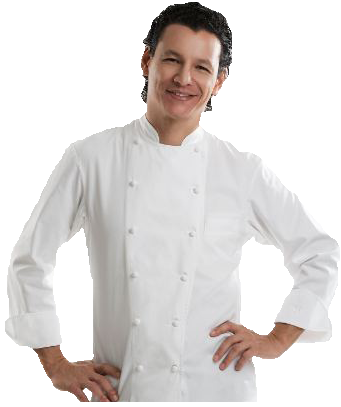 ※ Click on image to view full size.
Preparation:
Prawns, sea bass, scallops: clean & cut into big bite-sized pieces, keep separate; spice each with a little salt.
Submerge seafood with lime juice; leave for 10-15 minutes.
Decant lime juice, then submerge seafood with coconut water; leave for 15 minutes.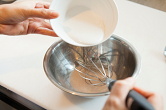 Squeeze mangosteen juice, add 4 tbsp coconut milk, 2 tbsp truffle oil, 2 tbsp lime juice, a little salt.
Blend steadily the mangosteen sauce until thick. Salt, pepper, lime juice to taste.
Bobby Chinn in Ho Chi Minh City
Kumho Plaza, 39 Le Duan Str., Dist.1, Ho Chi Minh City, Vietnam.
Tel: (08) 6291 7788

Bobby Chinn in Hanoi
77 Xuan Dieu, Tay Ho Dist., Ha Noi, Vietnam.
Tel: (04) 3719 2460 / 3934 8577