Recipes
Ingredients
Matcha green tea powder
10 gr
Ice
200gr
Sugar
30 gr
Water
30 ml
Topping cream
Mixture of vanilla and fresh milk
Vanilla powder
5 gr
Boiling water
2 tbs
Fresh milk
2 tbs
Equipment
Blender, Whipped cream sprayer
Tip
Green Tea Powder can be purchased at Newdays Coffee. The product imported from Japan costs 250,000 VNĐ / packet / 150gr.
The mixture of vanilla & fresh milk makes the aroma of green tea more moreish, naturally sweet and helps reduce the amount of needed sugar for the drink.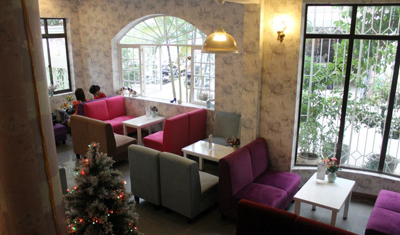 『 Newdays Coffee 』
Aiming at the space for fans of photography, Newdays Coffee is designed in the style of gentleness, romance and creation. Arriving at Newdays, you will have an opportunity to share stories of cuisine and photography. Newdays is famous for Italian coffee, shaking soda and green tea, some of which are really special: Matcha Frappe; Almond Latte; Mojito Soda; Raspberry;… Savories such as: banana pancake; stick cheese; baked chicken with cheese… are numerous patrons' favorite dishes. Newdays Coffee is always proud of the quality and safety of food, drinks so as to provide customers with a perfect culinary place.
Barista Đỗ Trọng Hải
After spending years studying abroad in Europe and working at restaurants, café in Australia, Đỗ Trọng Hải came back to Vietnam with the desire to make
delicious and healthful drinks
as he always has a feeling
that patrons' health must be
given priority. The combination
of Western recipe and Asian
imported ingredients has made
his drinks new, unique and
attracted numerous patrons.
※ Click on image to view full size.
Pour 200gr of ice, 300gr of sugar and 10gr of Matcha green tea powder into the blender, blend the mixture.
Make the mixture of vanilla powder and fresh milk: mix 5gr of vanilla powder and 2 tsp of boiling water. Then add 2 tsp of fresh milk, stir the mixture and pour it into the blender, then blend (30ml of water can be added to make it easy to blend).
NEWDAYS COFFEE
778/46-48 Nguyễn Kiệm st., ward 4, Phú Nhuận dist., HCM city, Vietnam.
Cell: 0909 886 860
Facebook: NewdayS-Coffee